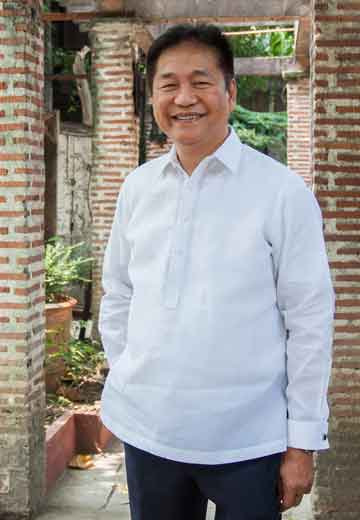 Melecio C. Mallillin
President, Mercantile Insurance Co. Inc.
Mercantile PH
"Traditionally, we go without insurance, and when something happens to us, we run to the mayor. The Filipino mindset resists buying, but once the person samples receiving the benefits, he will believe. Give good service, you will get known.
Insurance veteran seeks new ways to promote coverage consciousness
Insurance was farthest from the young Melecio C. Mallillin's mind when a horse he was bathing in the river kicked him on the right ear five decades ago in rural Pallua town in Tuguegarao, the gateway to the Ilocos region.
"I was thinking of owning a stainless jeep when I graduated from high school," recalls Mallillin, an Ibanag (meaning river dweller) from Cagayan and president of Mercantile Insurance Co. Inc. In the cavernous office, lined with H. R. Ocampo and Ang Kiukok paintings purchased by Mercantile founder Edmundo F. Unson, Mallillin tells Boardroom Watch: "This is where we 'print money [where the money is made]'…where we conceive insurance products."
Improving distribution
Mallillin, newly turned 67, continues promoting the benefits of insurance in one of the most disaster-prone areas in the world to a nation of 102 million, living in over 7,000 islands, visited yearly by 20 typhoons, earthquakes and volcanic eruptions. "Insurance is a volatile business. We don't know when is the next typhoon or earthquake, and their severity is hard to predict even with scientific instruments. If it happens, insurance is ready to pay," he says.
"Mercantile has a 5-percent exposure to the P1-billion fire at the Star City amusement park on Oct. 2, 2019 in Pasay City. That translates to P50 million," Mallillin adds.
Mallillin with Mercantile Insurance senior executives
"I take pride in my professional side, as well as my personal side, and how I have been able to balance them. I have a very happy family. I call them my 'living trophies."
Filipinos see insurance as a luxury, rather than a necessity like food, housing and other basic needs. "Traditionally, we go without insurance, and when something happens to us, we run to the mayor," Mallillin says. "The Filipino mindset resists buying, but once the person samples receiving the benefits, he will believe. If you give good service, you will get known."
"The law says to pay within 30 days from the time you complete all documents. In a competition, each company should be faster," Mallillin adds.
But, since Filipinos have been lukewarm toward investing in insurance, the penetration rate remains at only 2 percent of the population. Mallillin's advocacy has been to increase acceptance through a reliable distribution network out of the National Capital Region (Metro Manila) and into the provinces, dovetailed with an aggressive education program. To improve distribution, Mercantile is targeting cooperatives throughout the archipelago, which can reach out to the grassroots, which have been the perennially unserved segment. The company has also started to use cellphones to sell insurance, utilizing an application that can be downloaded on the gadget to sell mandatory insurance for vehicle owners.
In this season of giving, Mercantile is promoting a festive greeting card, featuring coverage of P50,000 for a P250 premium.
To keep brokers and agents motivated, Mallillin treats them as friends and family members. He remembers to greet them on their birthdays through SMS messages. He offers incentive trips and technical training, which drive sales up. Closer ties and better commissions have been known to inspire agents to greater heights, he observes.
The Amended Insurance Act of 2013 requires firms to comply with new laws, including more intensive capital strength. This means of 54 non-life insurers, around 14 will have to go, by way of withdrawal or joint ventures. Mallillin expects another 10 to go by the end of 2022.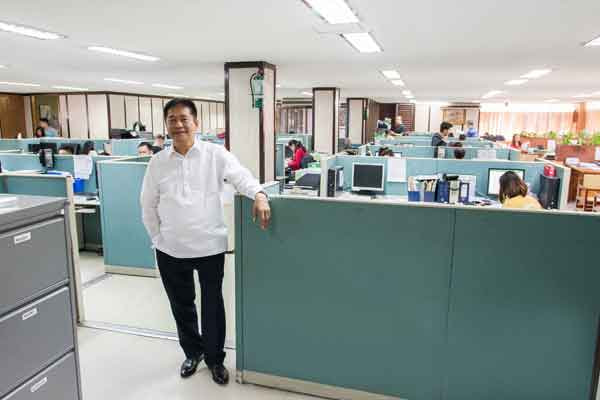 At the Mercantile Insurance office in Intramuros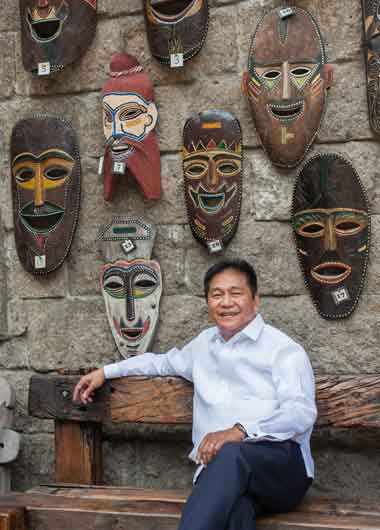 Contented with both his professional and personal life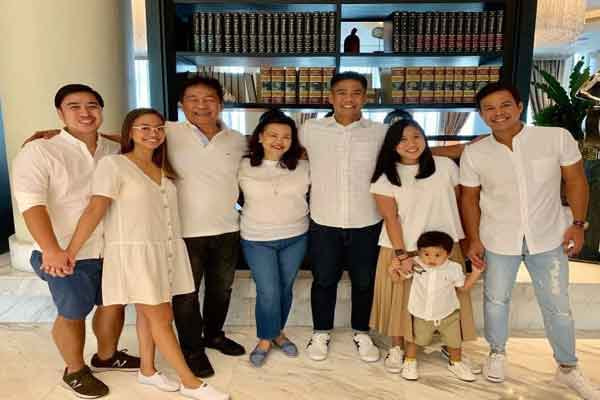 With his pride and joy, from left, Geo and Angela Mallillin-Galisim; Mallillin and wife Rose, Francis and Cara Mallillin and son Ali and Juan Miguel.
Insurance is more of a payment in benefits. The increase in capital assures there is enough capacity from insurance companies to pay the insured. The more capital you have, the better resources you have, the better services you give, Mallillin says.
Backstory
Before the Spaniards landed in the Philippines, financial losses brought about by natural disasters, were either shouldered by the individual or shared with the family or tribe to which the individual belonged, according to Dr. Randy Escolango, deputy insurance commissioner for legal service in a report in The Manila Times in April. Insurance was introduced to Filipinos when Lloyds of London, a European specialist in the insurance and reinsurance market, introduced Strachmann, Murray and Co. Inc. to the local market. Their arrival encouraged other foreign insurance companies like Sun of Assurance of Canada (est. 1898) and non-life insurance Yek Tong Insurance Co. (est. 1906) to set up shop. The first homegrown domestic player, Insular Life Assurance Co. Ltd., launched in 1910.
Insurance consciousness was sweeping the country when a group of dynamic businessmen, led by Edmundo F. Unson Sr., established Mercantile Insurance Co. on Oct. 29, 1962, at the Puyat Building in Escolta, then the business heart of Manila. After five years, it moved to Juan Luna Street, Binondo. In 1975, the three-story headquarters rose in the corner of Gen. Luna and Beaterio Streets, Intramuros, behind the Manila Cathedral, and painted green, the color associated with prosperity. In this atmospheric area, telenovelas are often shot, and being near the Port of Manila, the Mercantile building hosts 43 customs brokers offices as tenants.
Before Ma. Alicia L. Uson-Abellera, Edmund F. Unson's daughter passed on, she bequeathed a greater part of the book (worth of the company) to the employees, Mallillin narrates. In 2017, Mercantile was acquired by Camerton Inc., the holding company of Cirtek Holdings Philippines Corp., which bought 68 percent of the employees' ownership of Mercantile.
Remedios F. Cabero, assistant vice president of fire insurance and Mercantile's longest serving employee, started as a clerk in July 1977. She remembers the business' founder and lawyer Unson to be a "father figure, who treated us as family." Cabero was due to retire after 42 years with Mercatile on Nov. 4, 2019, but was extended for another year, says her boss Mallillin with a wide grin.
Missing beer
Mallillin is the third son of four children of Florencio, a driver of a horse-drawn, 12-seater kalesa (carriage), and Josefa, a dressmaker. Both were residents of Tuguegarao City, 483 kilometers north of Manila and the capital of Cagayan province. The family cultivated peanuts on sandy land, later eroded by the river. It owned four stallions, alternately used to pull the oversized kalesa, which were outfitted with jeep tires to make it run faster. Father Florencio later drove a three-wheeled motorized tricycle for a living.
Mallillin's father hated slippers, so his son was made to wear the bakya (wooden shoes) to elementary school, where he topped the class. He stuffed newspapers to fit into his first leather shoes, an oversized Ang Tibay, "because your feet would grow as you grow," he was told in first year in high school, where he graduated valedictorian. He was a college scholar, and received a stipend from the Senator Jovito Salonga Scholarship Fund after emerging top-notcher in a province-wide examination. At 19, he graduated cum laude in political science from San Beda College in Mendiola.
As an organization analyst at 20, San Miguel Corp. (SMC) gave him a four-figure pay and a monthly beer supply for his father. "Because there was a divide, compared to my accomplishments and what I was doing. I searched for something new that I would be happy with," he recalls. He left SMC after 22 months. When his father asked about his missing beer, only then did Mallinlllin, then 22, admitted he had joined the Ayala management trainee program in insurance for a P450 monthly pay. "My father did not speak to me for a long time."
Don Jaime Zobel de Ayala, (Ayala Corp. chairman and chief executive officer at the time) asked Mallillin: "What is a political science graduate doing in a business environment? What is the implication of Marcos taking into government service private technocrats?
At that time, Geronimo Velasco became energy czar and Cesar Virata was finance minister.
Mallillin responded: "Ayala will not be spared. Maybe, one day, you will be called." Zobel was appointed to the Court of St. James in the United Kingdom during the Marcos administration.
FGU (Filipinas Garantia Universal Insurance Corp.) assigned Mallillin to Bacolod City in West Visayas from 1979 to 1982. He taught himself to speak Ilonggo, the language of the region, by memorizing 20 phrases daily, listening to the local radio Budyong, and reading the vernacular magazine Yuhum. In three months, he found it easy to sell insurance in Negros and Panay provinces.
He developed the Unnamed Passenger Personal Accident insurance products during a time when FGU experienced dwindling reinsurance business in the south. Now, 37 years later, this insurance product is being sold by almost all non-life insurance companies here. "Nobody saw the potential of the personal accident unit, where the unnamed passenger has a recourse for recovery," Mallillin explains.
At FGU (renamed BPI-Insular Life), where he rose from sales assistant in 1976 to assistant vice president in 1983, Mallillin realized his calling for the insurance business. He moved on to become senior vice president of Provident Insurance Corp. (now Mapfre Insular); country manager of Switzerland General Insurance Co. Ltd.; executive vice president and chief operating officer of Paramount Insurance Corp.; and president of Equitable Insurance Corp., CCC Insurance Corp. and PNB General Insurers.
When Mallillin joined the Philippine Charter Insurance Corp. as president in February 2010, it attained 25-percent growth in premiums, from already declining figure in previous years. Philcharter was a Metrobank insurance unit, and one of the country's largest non-life insurers. He narrates: "Taipan George Ty, my idol, changed Philcharter's name to Ping An. He believed, and it came true, that anyone who read the company name will buy insurance because Ping An [in Mandarin] means 'safe and sound'."
"We grew that business in five years. Its asset value when I got in was P650 million. It was sold after five years for P23 billion to AXA."
'Pleasant life'
Since 1983, Mallillin has been lecturing on obligations and contracts, the rudiments and intricacies of insurance, and soft skills to insurance agents, at the 47-year-old Insurance Institute for Asia and the Pacific for practitioners. He is also a professor at De La Salle University's Masters Program in Risk and Insurance Management. I take pride in my professional side as well as my personal side, and how I have been able to balance them. I have a very happy family. I call them my 'living trophies.' I feel so fulfilled."
Mallillin met his wife, Rose Gonzalez, on a blind date in Bacolod in 1979, when he was assigned there. Their children are Juan Miguel, 36, vice president for pay8 portal sales and marketing; Angela, 35, a Philippine Airlines aircraft engineer assigned to the Airbus headquarters in Toulouse, France; and Francis, a money market trader, who gave Mallillin his first apo (grandchild), Emmanuel Jose, nicknamed Ali, 2.
He quotes from national hero Jose Rizal to sum up his story: "Little drops of water, little grains of sand make a mighty ocean and a pleasant life."
He says: "I tell those, who are starting life that poverty is not a hindrance; it is a challenge, so you can see yourself improving. Where I came from was the province, the tricycle driver, the dressmaker and the barrio. But over time, God gave me graces, which I am very happy with."
"Success lies within the person. Work for it, otherwise, nothing will happen. I believe in small things. When you put them together, they will grow," he adds.
And so they have for this insurance honcho.
* * *
What has made him
Melecio 'Mel' Mallillin is the sum of the people and experiences in his life. He recalls the most compelling ones:
• It hasn't been about money, but about values, that have made up my rural childhood memories. My father's values carried us to where I am now.
• My management training in finance, sales, marketing and operations with the Ayala Group of Companies in 1975 introduced me to the insurance business. I absorbed a lot of business sense from Don Jaime Zobel de Ayala.
• I derive fulfillment from retaining middle-age to older agents or brokers, whose children may not be interested to enter the insurance business. They are permitted to represent not just one company, but up to seven companies. As the principal, I have to fight for space.
• Whenever I give my name card to an agent or prospective agent, I say: "Don't file that. All my [contact] numbers are there for you to reach me quickly should you have any concerns. The last decision will be mine."
PHOTOS BY HERMES SINGSON
Source: https://www.manilatimes.net/2019/11/15/boardroomwatch/risking-to-win/656016/